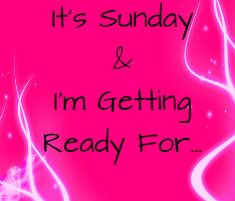 I haven't done this in awhile, but here we go. It's Sunday & I'm Getting Ready For...
Work tomorrow, as usual. I had last week off, so tomorrow may be a bit busy. Which will be nice.
A big change in our schedule, which I will share in a blog post tomorrow.
Mine & Lincoln's weekly trip to the library. He has really gotten into the human body and how it works and, actually, how a lot of things work. He is just so curious about how things in the world around him function.
Hopefully, some time out with a friend or two. I've been trying to get myself out more and Lincoln & I out, as well. It's nice to socialize with people other than my family from time to time and it's good for Lincoln to socialize with other children.
Working on my novel. I've only been working on it for the past 4 1/2 years, it's about time I really work on it and finish it which is my plan.
Getting back into blogging more. I know in the past month I haven't been blogging as much as I was before. But one of my resolutions for this year was to get back into blogging more.
Continuing our new workout regime, which has been going very well. The past few days we have slowed down a bit due to some pulled muscles. But we are doing much better than we were before and it feels great to be working out and getting in better shape.
Enjoying some time outside with Lincoln. The weather is supposed to be beautiful this week, so we will definitely be spending some time out in the sunshine.
and that's what I'm getting ready for this week.
What are you getting ready for this week?