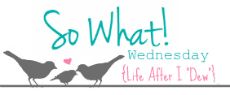 I am linking up. This week I am saying So What if...
I changed my diet so that I'm not having horrible headaches anymore.
I can't think of any new topics to blog about.
We let Lincoln stay up waaaaay past his bedtime last night.
All we did over the weekend was watch movies.
I've been re-watching the Magic Mike preview on YouTube just a little too much.
This heat is causing me to be a tad impatient.
And that's what I'm saying So What to this week. I'm hoping that tomorrow I will have a topic to write about. I'm really hoping that this heat will stop making it so I can't think straight.
What are you saying So What to this week?